Stevie Burke, a long time Manassas-area resident, has always had a dream of owning his own automobile detailing business. That dream became a reality in October of 1999 when he created 2 Clean Auto Detailing, Inc.
The first detailing services were performed in a garage, washing cars for family and friends. Soon a larger space was needed as word of mouth generated more and more business. In less than five short years, 2 Clean Auto Detailing emerged as a market leader in the local area and has continued to grow. The company now boasts a client list that tops 300 satisfied customers.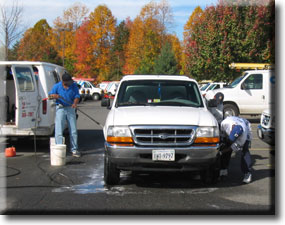 Unlike automated car washes, 2 Clean Auto Detailing's certified technicians offer hands on service with a high standard of quality. We have expanded our service list to provide an array of options for vehicles of any type, and we now provide fully mobile services for your added convenience. With customer satisfaction being our guiding principle and prime motivation, 2 Clean Auto Detailing has achieved its success by offering services of truly unmatched quality at an affordable price.
2 Clean Auto Detailing is a reliable, honest company that will go the extra mile to meet your detailing needs. We're glad you've found our web site, and we look forward to serving you.

There are lots of great reasons to detail your car regularly. Click here to find out more...